Posted April 22nd, 2014 by
dave
+
in
Recipe
When it comes to great food cities, most people think of New York City or other metro areas on the coasts, such as Los Angeles, Boston, or New Orleans.
As both Martha Stewart and Guy Fieri (stars of the Food Network) know, however, there's great food to be enjoyed all across the United States. One city that has a cuisine that both stars love is Reno, Nevada. Continue reading »
Comment (0)
Posted December 12th, 2013 by
dave
+
in
Tips
For many of us, cooking isn't just a hobby; it's a calling. It's no wonder there are always new restaurants opening up!
If you've been dreaming of owning or running your own place, there are a few essentials you'll need to prepare for. Here are six things to think about when starting up a restaurant: Continue reading »
Comment (0)
Posted July 31st, 2013 by
dave
+
in
Ideas
Tapas conjure the vivid hues of the Cote d'Azure, the sweet spice of cinnamon-laced sangria, and the strains of the flamenco in the air. A delicious daydream for all the senses, it is little wonder tapas restaurants have become hugely popular in the US.
Unfortunately, even though they do not include the Cote d'Azure, the cost of frequenting these places can start to pinch after a while. Never fear, there is no reason to drop the tapas habit; instead, bring it into the intimate setting of your home and enjoy the experience in a new light.
Where to start? You need three essentials: Continue reading »
Comment (0)
Posted November 4th, 2011 by
dave
+
in
Chef
,
Entertaining
,
Gossip
,
Kitchens
,
News
Anthony Bourdain, the infamous traveling chef now on almost every lifestyle channel in existence- had quite a story to tell in one of his first bestselling books: "Kitchen Confidential". Finally, after many trial and tribulations, he had found his sous-chef extraordinaire, Steven Tempel, for the Supper Club in New York, where Bourdain had just been made head chef. To say that Steven was eccentric was, according to Bourdain, putting it mildly…
Nevertheless, Bourdain reveals in the very frank and no nonsense book (as in how it really goes down in the restaurant business), Steven was somewhat of a genius. It turns out that Bourdain had recruited Steven from Casa Nostra Restaurant, in Northern California, where he had been working in the kitchen with "idiot savant" and "baking genius" Adam Real-Last-Name-Unknown!!
Kitchen Confidential is an excellent read and here at Celebrity Chefs we highly recommend it. As it turns out, the owner of Casa Nostra Restaurant (which was known for serving the best italian cuisine in town)- Joey Velardi, has recently opened up a branch in Manila, Philippines- where it is receiving rave reviews from the locals and in fact Bourdain recently visited for his show "No Reservations".
Let's hope Bourdain doesn't steal the chef again
Comment (0)
Posted January 11th, 2011 by
dave
+
in
General
,
Ideas
,
Kitchens
,
Tips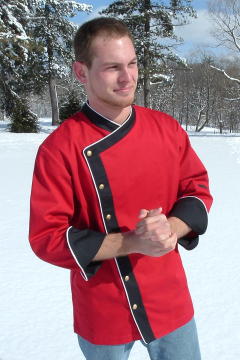 As a chef, the choice of chef coats you make will play a major role in the presentation of your work, and to some extent its safety. Making the right choice in this department isn't just about looking good, it also means you'll provide yourself with all the comfort and utility you'll need to work your miracles in the kitchen. Chef coats come in various shapes and sizes, but the basic idea is the same.
Chef coats, also known as chef jackets, are usually made of a thick material that provides good insulation (most commonly cotton) and are traditionally dyed white, which not only serves a practical purpose (makes stains easier to spot), but also maintains a clean, hygienic look if your chef jacket is always maintained in good condition. They're usually double-breasted as well, and can be turned inside out to conceal a stain temporarily if the chef needs to make a presentation.
Chefs also need good chef aprons to perform their jobs well – like coats, chef aprons provide a combination of good looks and utility, though with the apron the accent is more on the utility part – a good chef apron would be easy to take off, and would usually feature pockets for holding utensils.
If you're a woman, you should know that women's chef jackets are slightly different than their male counterparts – a woman's chef jacket is usually shaped slightly differently to accommodate for the different physique, and tend to come in slightly different color schemes as well.
Comment (0)
Posted January 9th, 2011 by
dave
+
in
General
,
Ideas
,
Kitchens
,
Tips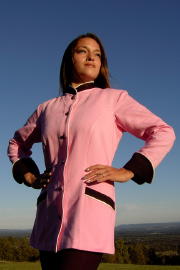 Most people associate the profession of a chef with one traditional part of their uniforms – the chef's hat. However, not many realize the importance of other aspects of a chef's clothing. Chef coats have developed quite a lot in recent times, both in terms of looks as well as utility, and they're currently an indispensable part of any respected chef's equipment. Chef coats not only help identify the chef among their co-workers, but they also provide a variety of useful functions that help ease the job.
Does every person who works in a kitchen really need a good assortment of chef jackets in their wardrobe though? It all boils down to several factors. First, what type of cooking do you do precisely? If it involves a lot of boiling and generally working with hot materials, well-made chef jackets can provide you with the extra protection you'll need to feel comfortable. Additionally, if you want to make a good presentation, wearing something respectable will always be of benefit.
It's not just about the coat though – chef aprons are just as important as the coats worn by chefs, as they provide additional protection and utility, while also being a traditional part of a chef's attire. Chef aprons are more commonly worn by non-professional chefs as they're easily available and very convenient.
Women need to take care of themselves just as well in the kitchen – good women's chef jackets are widely available just as men's, and offer the same utility and comfort that help ease the job's stress.
Comment (0)
Posted November 23rd, 2010 by
dave
+
in
General
,
Tips
Any home should have cutlery. Whether it is the fine and expensive one or the regular ones you use for every day cooking, cutlery serves as a very important part of the kitchen.
Whatever type of cutlery you have in your home, it is a must that they be kept clean and in good condition all the time. If you ignore the cleaning aspect, you can be sure that dust, dirt and rust will find their way on your beloved knives and you will no longer be able to use them particularly those that get rusty.
Most homeowners have their favorite knives that they use when they prepare food every day. These can be of different sizes each with different purpose. Yes, they sure serve you and your family well and so they deserve proper care every time you use them.
With fine cutlery and cooking cookware, normally homeowners use these only during special occasions but again, maintenance is vital if you want to keep them for a long time and even pass them on to your children and grandchildren. Nothing can be better than using a clean and sparkling knife during a special dinner with family and friends in your very own home.
So what are the basic steps you need to keep in mind when caring for your fine cutlery ?
Handwash them. Remember to wash fine cutlery only using your hands and never in the dishwasher. A mild soap mixed with warm water should do to clean them. The same with the regular knives you use during your food preparations. They're best washed with hands to remove any residue from vegetables and meat.
Wipe dry. Using a soft cotton cloth, carefully wipe dry the cutlery.
Remove fingerprints. As you're wiping, make sure you take away the fingerprints that you see. You have to know that any oil from your skin can lead to a permanent stain on your cutlery. Make sure then that you use a pair of gloves preferably those made from white cloth so you avoid finger marks on the knives.
Put coating. It would be a good idea to coat your cutlery with a USP food grade mineral oil particularly if you'll be storing them for quite some time. Just a light coating will do.
Don't forget to put the oil as well on the leather handles of your fine cutlery. This will prevent the leather from cracking.
Store properly. Fine cutlery should be kept in a warm area if possible such as a cutlery drawer if you have. If they came in a well packaged box, put them back there. Make sure that you store each knife separately as it's never good that they rub against each other.
Avoid high temperatures as this can cause damage to your cutlery. So never put them on top of your refrigerators or expose them to cold temperatures such as in your basement particularly during cold weather.
Sharpen knives regularly. This is a must for the knives you use on a daily basis. You can sharpen by hand or to ensure you get the right sharpness, get a professional to do it for you.
Comment (0)