Posted January 31st, 2011 by
Vicky
+
in
Cookbook
Chocolate or vanilla? Which do you use? There are times when you really can't make up your mind because they are both so good. Gale Gand agrees and this is why she wrote "Chocolate and Vanilla".
The book was made available last year and if you haven't bought it yet, you are missing out. It's a fun, novelty item that has some cool recipes. If you pick up the book and open the cover you will see chocolate recipes. Flip the book and open the other cover and you get vanilla recipes. A two in one book – isn't that great?!
Gale Gand wrote this book with Lisa Weiss. It features a whole lot of desserts that are absolutely sinful but definitely worth eating. She describes vanilla as the "lingerie of baking" which sure perks up the imagination of many home chefs. Is she right? Check out her book and you decide.

Technorati Tags: Gale Gand, desserts, chocolate, vanilla, cook book
Comments Off

on Chocolate and Vanilla
Posted January 24th, 2011 by
Vicky
+
in
Biography
,
Chef
Jason Atherton may not have the boyish good looks of Jamie Oliver, but boy does he know how to run a kitchen. He is the one Michelin-starred executive chef at Gordon Ramsay's Maze restaurant (and anyone who can survive Gordon Ramsay's scrutiny has got to have both talent and balls).
He was also the first British chef to complete an internship at Spain's famous El Bulli restaurant, under Ferran Adrià. Though he's too busy in the kitchen to have a show, he cooked the winning starter and main course in the 2008 series of Great British Menu on BBC Two, representing London and the South-east.
Comment (0)
Posted January 20th, 2011 by
Vicky
+
in
Kitchens
,
Recipe
I agree with Gale that homemade ice cream is indeed an inexpensive, but oh-so-worth-it luxury, and since I got my first ice cream maker nearly 5 years ago, I must say that nothing quite compares to the real thing.
Now that I have a dinky new Italian machine, I've been trying to find recipes to please the most fervent fan of ice cream in my household – my four-year-old daughter who insists that I only make vanilla. I have tried in vain to make other things, but this is mostly greeted with grumbling and a mommy promise to make vanilla tomorrow.
But with this recipe below, I have high hopes that it may finally de-vanilla-ize my little one. Oh, and take Gale's useful vanilla pod advice below – once you use those heady black beans, you wont ever buy those awful bottles again.
Cookie Dough:
8 ounces (2 sticks) cool unsalted butter, cut into pieces
1 cup packed light brown sugar
1/2 cup granulated sugar
1 teaspoon pure vanilla extract
2 eggs
2 1/4 cups all-purpose flour
1 teaspoon baking soda
1 teaspoon salt
1 cup chocolate chips
Ice Cream Base:
2 cups half-and-half
2 cups heavy cream
1/2 vanilla bean, split lengthwise
9 egg yolks
3/4 cup sugar
Make the Cookie Dough: Cream the butter in a mixer fitted with a paddle attachment (or use a hand-held beater) until soft and fluffy. Add both sugars and mix. Add the vanilla and 1 egg and mix. Add the remaining egg and mix. Add the flour, baking soda, and salt and mix. Add the chips and mix just until just combined.
Using your hands, roll the dough into a long thin rope; then cut into small bits. Refrigerate until ready to use.
Make the Ice Cream Base: In a saucepan over medium heat, heat the half-and-half, cream, and vanilla, whisking occasionally, to make sure the mixture doesn't burn or stick to the bottom of the pan. When the cream mixture reaches a fast simmer (do not let it boil), turn off the heat and let the flavors infuse for 10 minutes. Whisk together the egg yolks and sugar. In a thin stream, whisk half of the cream mixture into the egg yolk mixture. Then pour the egg-cream mixture back into the saucepan containing the rest of the cream mixture.
Heat over medium heat, stirring constantly with a wooden spoon. At 160 degrees F., the mixture will give off a puff of steam. When the mixture reaches 180 degrees F, it will be thickened and creamy, like eggnog. (If you don't have a thermometer, test it by dipping a wooden spoon into the mixture. Run your finger down the back of the spoon. If the stripe remains clear, the mixture is ready; if the edges blur, the mixture is not quite thick enough.) When it is ready, quickly remove it from the heat.
Technorati Tags: Gale Gand, Desserts, Sweets, Chef, ice cream, Recipe
Comments Off

on Gale's Chocolate Chip Cookie Dough Ice Cream
Posted January 11th, 2011 by
dave
+
in
General
,
Ideas
,
Kitchens
,
Tips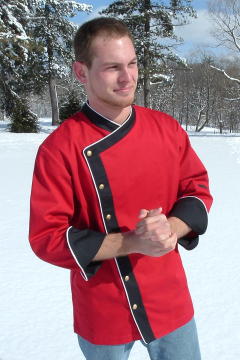 As a chef, the choice of chef coats you make will play a major role in the presentation of your work, and to some extent its safety. Making the right choice in this department isn't just about looking good, it also means you'll provide yourself with all the comfort and utility you'll need to work your miracles in the kitchen. Chef coats come in various shapes and sizes, but the basic idea is the same.
Chef coats, also known as chef jackets, are usually made of a thick material that provides good insulation (most commonly cotton) and are traditionally dyed white, which not only serves a practical purpose (makes stains easier to spot), but also maintains a clean, hygienic look if your chef jacket is always maintained in good condition. They're usually double-breasted as well, and can be turned inside out to conceal a stain temporarily if the chef needs to make a presentation.
Chefs also need good chef aprons to perform their jobs well – like coats, chef aprons provide a combination of good looks and utility, though with the apron the accent is more on the utility part – a good chef apron would be easy to take off, and would usually feature pockets for holding utensils.
If you're a woman, you should know that women's chef jackets are slightly different than their male counterparts – a woman's chef jacket is usually shaped slightly differently to accommodate for the different physique, and tend to come in slightly different color schemes as well.
Comment (0)
Posted January 9th, 2011 by
dave
+
in
General
,
Ideas
,
Kitchens
,
Tips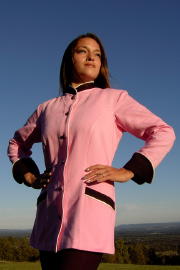 Most people associate the profession of a chef with one traditional part of their uniforms – the chef's hat. However, not many realize the importance of other aspects of a chef's clothing. Chef coats have developed quite a lot in recent times, both in terms of looks as well as utility, and they're currently an indispensable part of any respected chef's equipment. Chef coats not only help identify the chef among their co-workers, but they also provide a variety of useful functions that help ease the job.
Does every person who works in a kitchen really need a good assortment of chef jackets in their wardrobe though? It all boils down to several factors. First, what type of cooking do you do precisely? If it involves a lot of boiling and generally working with hot materials, well-made chef jackets can provide you with the extra protection you'll need to feel comfortable. Additionally, if you want to make a good presentation, wearing something respectable will always be of benefit.
It's not just about the coat though – chef aprons are just as important as the coats worn by chefs, as they provide additional protection and utility, while also being a traditional part of a chef's attire. Chef aprons are more commonly worn by non-professional chefs as they're easily available and very convenient.
Women need to take care of themselves just as well in the kitchen – good women's chef jackets are widely available just as men's, and offer the same utility and comfort that help ease the job's stress.
Comment (0)